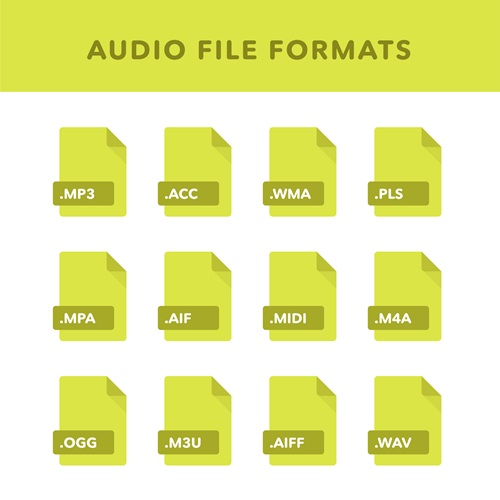 Need new professional recordings for your phone system, but don't know exactly what format to ask for? We have a variety of tools available that allow audio file conversion into many phone-system friendly codecs.
Why is this even necessary? These systems require formats, volume levels and file extensions which vary greatly, and often our customers don't know how to quantify those variables. At Marketing Messages we have over 20 years of industry experience in determining how to format your new voice recordings for your company's specific phone system. We can provide WAV files, VOX files, and mp3, just to name a few of the more common audio formats . To be clear and simple, we can provide almost any type of audio file.
Do we do all of our work in your preferred format? Not at all! We do nearly all our recording and editing with 44,100 Hz, 16-bit, mono PCM WAV files. Once the audio is edited to perfection, we format for your system specs using the aforementioned tools. We also archive all of your audio in this higher quality WAV format. Should you upgrade your system to one with different requirements, we can re-format your files using these specified codecs. Switching from an old NMS 32 kbps VOX format to a CCITT (G.711) wav? We can do that.
So how do we determine which file format is right for your phone system? We start by simply asking the question, "What format do you need ?" If you already know the specs, great! If not, we have ways of ascertaining the necessary details. For instance, my favorite method—obtaining an audio sample file from your current Auto Attendant which you think sounds pleasant and also seems to be recorded at an optimal volume level. We then analyze your file to determine what format it is, how loud or soft it is in decibels, and any other variables which may be pertinent, such as silence at the head or tail of the file. Also worth noting, you could ask your telco provider for the required file specifications. Should the answer be WAV, please elaborate. Ask for the sampling rate, bit rate and any additional information. For example 11,025 kHz, 8-bit, mono PCM wav.
Free 20 Minute Phone Consultation

We'll assess how well your recorded voice prompts represent your brand and stack up against your industry's best practices.
Sometimes you run into the problem of not being able to copy an Auto Attendant prompt from your system. Should that be the case, we'll likely ask you the make and model of your system. Using that information, we'll investigate further within our knowledge base or with the vendor directly. Once we have your format nailed down, we'll add it to your customer profile within our database. From then on we can always deliver exactly what you require.
Want to discuss the audio format for your phone system? Just contact us!