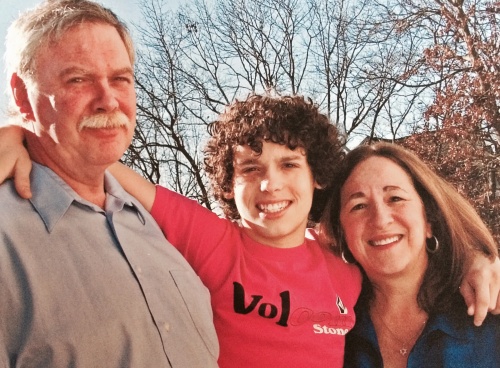 "Gilly's House is so much more than just a sober recovery house. It really has become a house of healing."
This is how Barbara Gillmeister, who in 2016 lost her 25-year-old son to a heroin overdose, describes Gilly's House.
The large Wrentham, Massachusetts house, a former nursing home, sat vacant for 15 years. In a WCVB 5 Chronicle video interview, Barbara describes how young Steven would admire the house and remark to his friend, "If we had all the money in the world, what would we do with this house?"
After Steven's death, transforming the house become the work of parents Barbara and David Gillmeister. But their cause soon turned into a community-wide project. Other local parents that had lost children due to addiction renovated and furnished rooms, both as memories to their children and as concrete action to help others recover.
Turning the house into the non-profit that it is today took hundreds of volunteers that worked to "scrape wallpaper, top lay flooring, to do gardening," as Barbara Gillmeister describes.
An Open Door to Recovery
Gilly's House is now a residential program for men who are struggling with addiction, have begun their recovery, and want to continue their commitment. The live-in program accepts men committed to their sobriety, and provides their basic living needs as well as counseling, 12 Step meetings, and transitional life skill training.
Strong Community and Business Support
The mission of founders Barbara and David Gillmeister still relies on local support, including local business support, for donations of all types to help sustain its services.
Recent donations include dinner from Cafe Assisi Italian Bistro in Wrentham, sports equipment from Franklin High School students, food from Walpole Food Pantry, Franklin Food Pantry, Greater Boston Food Bank, Foxboro High School students, and countless local families, individuals, and organizations.
Gilly's House even recognized Marketing Messages for donating professional Messages-On-Hold voice recordings, background on-hold music, and a digital announcer for their telephone system.
Why use on hold messages as a local business? We think Gilly's House describes it best on their Facebook post:
"So, when you call in to GH (508) 384 2251 and have to be placed on hold, you will listen to soothing music and get information about Gilly's House in between."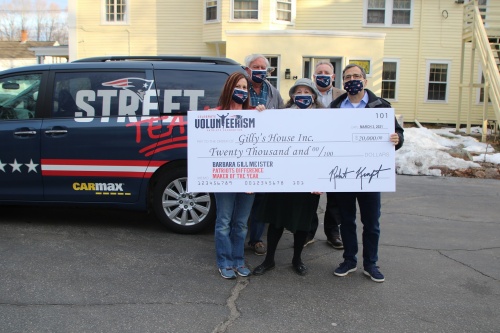 In 2020, the New England Patriots Charitable Foundation recognized Barbara Gillmeister as the Patriots Difference Maker of the Year, with the foundation's President, Josh Craft, visiting Gilly's House and presenting a $20,000 donation.
Patriots Foundation team members continue to support Gilly's House, dropping by and leaving much-needed donations.
Legacy of Steven "Gilly" Gillmeister
From Gilly's House web site:
"Gilly's House was established in memory of Steven Gillmeister, who passed away from a heroin overdose on October 24, 2016 at the age of 25. During his struggle with addiction, Gilly was actively helping other addicts get clean in any way he could. He had a passion for helping others, and with Gilly's House we hope to carry out his legacy and continue to help those in need."
Barbara Gillmeister knows her son's spirit is here. If you would like to support her family's work, visit Gilly's House and click the Donate Now button.