How did Marketing Messages partner with Twilio? In search of insights on how Marketing Messages can chart a course in the brave new universe of integrated, cloud-based communications, I made the trek out to Twilio's user conference in San Francisco last week. Those telco professionals who have launched efforts in this arena know Twilio to be one of the premier providers of development tools that enable the powerful but low-cost integration of voice – particularly VoIP and SMS – with web, desktop, and mobile applications. Seeing the enormous potential here, Marketing Messages has recently joined the Twilio family as a Technical Partner to provide professional voice prompts for IVR, auto attendant, and other call center applications powered by Twilio.
It's exciting to be part of what appears to be a real rocket ship – user attendance doubled versus last year to 2,000 participants, and the energy the Twilio team brought to every customer interaction was truly impressive. The journey served to confirm our belief that integrated, hosted applications are the wave of the future in telephony, and the high-quality custom IVR prompts that only a professional voice talent can provide will enhance the caller experience for users of these systems.
Here's me with some of the folks on the Twilio partner team.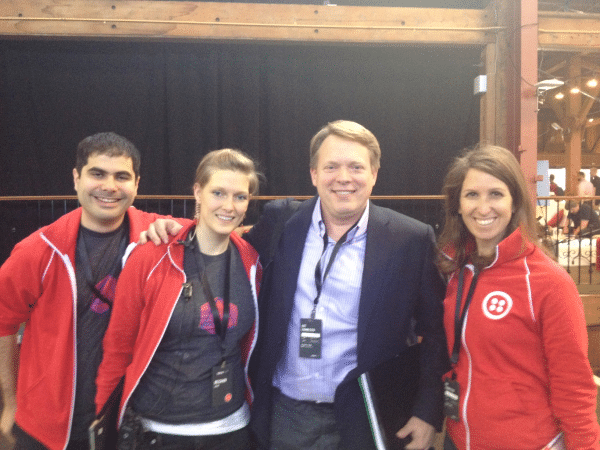 I was struck by the diversity of the Twilio user base, everybody from entrepreneurial voice user-interface designers for small companies to project managers for Fortune 500 corporations. For the lean-and-mean startup, our professionally-produced, pre-recorded voice prompts breathe life and emotion into the company's emerging brand, and sound more professional at a surprisingly low cost. For large corporations, combining the low cost of a Twilio-enabled application with our multi-language voice prompts supports cost-effective expansion into international markets, whether augmenting a North American call center application with Spanish voice prompts, or employing voice messages in Mandarin or Cantonese as part of an APAC expansion.
I also see the potential of adding auto attendant prompts and custom on-hold messages to Twilio-powered communications software. Twilio employs a system they call <Queue> to dynamically route calls to appropriate resources while hold music plays simultaneously, until the call is dequeued. This presents a great opportunity for companies of all sizes to promote and cross-sell new products to callers via our Messages On-Hold™ offering. The nice thing is that armies of professional services staff aren't required to build this capability.
The small and medium size companies that represent much of Twilio's user base have traditionally not had the resources to introduce professional voice actors and studio-quality audio into their telco applications. Marketing Messages' low overhead approach brings the economics of these capabilities within their reach. As these companies grow, they will no longer be able to use internal resources to record their voice prompts; this approach doesn't scale, and these untrained, internal resources just don't project a professional image. Marketing Messages will take on all the nitty-gritty tasks of preparing voice scripts, coordinating multiple recording schedules, proofing voice messages, and naming/delivering/archiving the audio files.
During their main stage presentation, user after user came up to demonstrate Twilio's capabilities. One cool example: Twilio has integrated pictures into their offering. Salesforce.com showed how they employed this photo-showing capability within their work order function that guides the equipment repair process. What does this have to do with professional voice prompts or Messages-On-Hold? Nothing – unless we imagine a whole integrated process which starts with a customer phone call that gets efficiently routed to the person managing that customer's work order, right?
So, we're happy to be part of the Twilosphere. And we stand ready to help companies large and small to fold professional voice prompts into their hosted software solutions.
By the way, if you need a place to stay in San Francisco, check out the Phoenix Hotel. It's in a dicey part of town, but it's the original "rock-and-roll" hotel – vinyl records on shelves along every wall, and one of the best burgers in town, hosted by awesome bartenders and wait staff!