Top 12 Tips for Multi-Language IVR
Learn how to navigate considerations of an international audience & customer base.
Your customers have your IVR system in 10 languages, but would they rate the experience a "10"?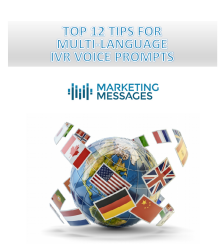 The subtle challenges of communicating with customers via an IVR system are greatly magnified when implementing voice prompts in multiple languages concurrently. Maintaining consistency in meaning, avoiding cultural minefields, and establishing credibility and familiarity across different geographic regions are the main challenges. There are also numerous process and practical execution issues that are encountered during fulfillment. This Top Ten list offers tips to ensure that your multi-language IVR system is effectively supported by professionally recorded voice prompts.
Fill out the form to the right to receive your guide >>