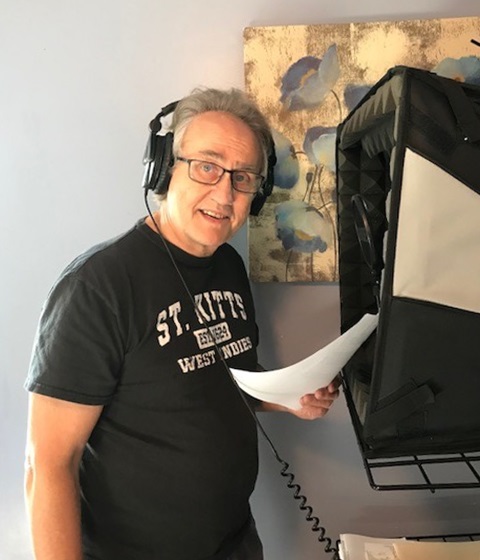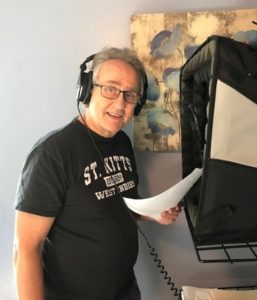 Looking for a warm, expressive, mature male voice talent recording for your next project? Then you need to check out Sean. Based in Brooklyn, New York and Boston, Massachusetts, Sean has recorded over 130 audiobooks, narrated television documentaries, and acted in films and plays.
Professionally, Sean has the ability to talk with authority, while at the same time utilizing a conversational, natural delivery, as if the listener were sitting alongside in the booth. Want assurance that your voice talent understands and conveys your message? Sean is seasoned enough to identify the heart of a piece, reading with a variety of pace, tone and inflection appropriate to its purpose.
Or perhaps you're looking for a voice to handle a long form narration project. Originally a stage and film actor, Sean has the chops to carry long narratives. A skilled character actor with a great ear for tone and dialect, and a voice flexible enough to convey a broad range of action, Sean can juggle a dizzying array of characters of either sex. He finds the line between action and narration, reading from inside the characters' heads while capturing the narrator's voice in every piece he reads.
Sean answers some questions about his process:
When you're presented with a new script for professional recordings, what is your prep routine for making sure you deliver a personalized performance?
When I receive a new script, the first questions I always ask myself are, "Who am I talking to? What's my relationship to this person? What do I want from him or her and/or what action do I need him or her to do for me?"
This holds true for every script I work on, whether for video recordings, IVR prompts, an audiobook, or a commercial, whether it's dialogue, monologue, or narration. The key idea is that my choices have to be specific, personal, and vivid enough to bring me to the place where I can act believably. It's a tall order but absolutely necessary for a successful performance for my client need.
You and I have recorded many audio books together, and we've had a great time doing it! Talk about the hours and hours of training, on-the-job experience, and even your acting experience as they relate to current and future projects.
My ongoing acting training provided me with the tools to deepen my technique and understanding of the process. I've had great acting teachers over the years – in New York, Bill Hickey, Mel Shapiro, Robin Miles, and Paul Ruben, and in Boston, Wren Ross, who I've been studying with for the past 4 years. Wren has rekindled my joy in the work, the idea of play that's at the heart of all of it. For me, it's become a labor of love.
One of my favorite aspects of recording you is your commitment to delivering consistent character voices. I've learned firsthand that what sounds easy to the listener, behind the scenes can be a process that involves a lot of work. Can you talk about your process and motivation?
I had such a great time working on audiobooks with you, Josh. Early in my career, I recorded eight 800-page titles from a ten-book mythology series, The Malazan Book of the Fallen, for the National Library Service. Each book contains a very large cast of characters, many of whom return in later chapters.
I was told that the celebrated actor, narrator, singer, director, and composer, Jim Dale, recorded each character in the Harry Potter series on a tape recorder, so that he could refer back to what he had done in earlier chapters. So I decided to ask you and other audio engineers I worked with to record and save each character voice as a separate audio sample to reference later on. I was taught early on that the priority in audiobook narration is to tell a story compellingly, so I thought that I should try to make each character as distinctive and idiosyncratic as possible. I was also told to maintain a consistent voice from beginning to end, and not to ask my readers to work to understand who was who and what was happening. Some of my NLS readers complimented me for that – I know you enjoyed it.
What types of audio projects are you available to record?
Over the nine years I worked in audiobooks, I had the pleasure of working with wonderful audio engineers who helped me immensely. I loved that collaboration. Recording and producing audiobooks with an audio engineer is a challenging process. Alone, I find it downright intimidating. It's also time-intensive. So I decided not to go down that road. Now that I'm in Boston, I'm doing short-form voiceover, which allows me to focus more on acting values than on the considerable technical demands of audiobook postproduction. Short-form affords me the luxury of playing with a multitude of reads in order to discover just the right dynamics in a performance. For me, it's all about identifying the event behind the words, whether it's a PSA, a corporate narration, an e-learning text, or on-hold messaging. It's all the same process. And I'm available to record all those genres and more. Recently, I did a radio spot, Advice to My Gay Son, for Bagly, at Soundtrack, produced by Arnold Advertising. I'm excited about doing so much more here in the Boston area.
Like what you've read from Sean? Ready to actually hear some of his great work? Listen to Sean's Narration for Video/Multimedia demo:
If you'd like to speak to a member of our team to use Sean in your next project, contact us so that we can schedule a time to talk about your needs and the ways we can help.