Conversational Scripting Revisited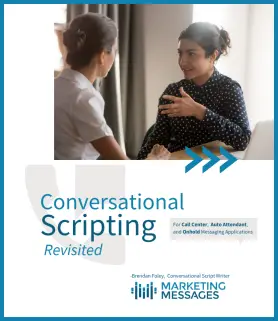 Vocal delivery for telephony voice recordings has moved towards more natural, conversational human interaction. Our first edition of Conversational Scripting described approaches to support this shift. Over the two years since, we have noted the need for voice prompt scripting to respond to new technologies such as Artificial Intelligence (AI) as well as the need for a more global and diverse audience.
After reading our updated Conversation Scripting Revisited guide, you'll be better able to:
Make a more meaningful and emotional connection with callers
Help your business and your brand stand out from the crowd
Appeal to a more global and diverse audience
Employ more up-to-date technologies and processes
This Whitepaper includes examples of "Before and After" voice prompts that illustrate how using simple scripting techniques can convert a collection of traditional messages into a free-flowing conversation.