The Essential Guide to Voice Recording in the Energy Industry
Download to learn how energy companies use professional voice talents for their phone-based systems to more effectively connect with their customers.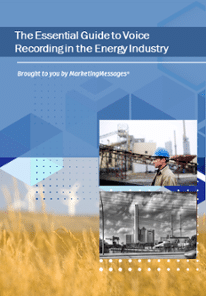 As a business technical professional charged with providing your customers with a brand-building caller experience, you grapple with how to cost-effectively satisfy the customer's growing desire for information. IVR and other phone systems often sound impersonal, if not "robotic". In scenarios where talking to a live agent is not a cost-effective alternative, how can your organization build a sense of confidence and comfort with your customers – while building your company's brand?
This E-book has been created for both business and technical professionals at electric, gas, and water companies who have been entrusted with meeting these challenges.
In this ebook:
Discover how to use technology to respond to current energy industry trends
Explore best-in-class energy applications for IVR and other phone based systems
Learn how professionally trained voice talents can enhance the customer experience and build your brand