Top 10 Tips for Multi-Language Video and E-Learning Narration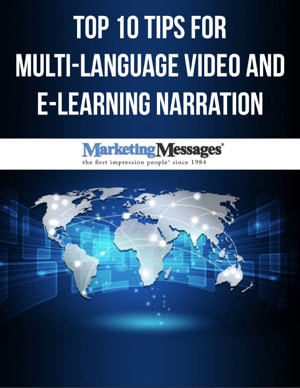 Your web videos are a smashing success in the U.S., but how would they play on a more global stage?
The use of web-based web videos and e-learning applications has greatly increased in recent years, as has the need to localize these assets to a broad range of geographies. Expanding these assets globally creates significant challenges for marketing and training professionals, who seek to:
Maintain consistent messaging
Avoid cultural pitfalls
Streamline the localization process
Find voice talents with long-form narration skills across multiple geographies
This Top Ten list offers tips to address these issues and ensure that your web videos and e-learning modules are effectively supported globally by professional, multi-language voice narration.
Fill out the form to the right to receive your guide >>