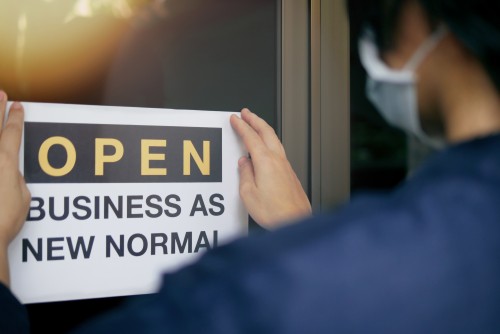 Why has On-Hold Messaging proven to be indispensable throughout the COVID-19 Pandemic?
I've been asked in numerous conversations with friends and family about how Marketing Messages has been weathering the COVID-19 pandemic. In the early days, we were all unsure of what the impact would be on our business, but as time passed and we witnessed the amazing innovation and resilience within all sectors of our economy, it became clear to us that the telephone has become more important than ever to our customers' marketing and communications efforts – and that Messages-on-Hold is critical to not only communicating to customers about the virus, but communicating in the new world brought about by it.
The impacts of the crisis and its implication for onhold messaging (and marketing in general) can be view across different time horizons. The key point here: An effective Messages-on-Hold program will require continuous monitoring of customer communication needs and frequent MOH updates to respond to those needs.
Short Term: Customer and Employee Safety and Protection
Our most marketing forward customers moved quickly early on, using their onhold messaging to impart information about changes in how they interact with customers (like revised hours, new service delivery options, etc.), but more importantly, they built credibility and empathy by reinforcing public safety guidelines relating to the virus. The leaders here, unsurprisingly, were healthcare providers. Many of them quickly updated their hold messages to relay helpful health-related information and procedures to patients, visitors and staff:
CIDC/WHO guidelines, policies and procedures
Changes in operating hours
New technology/services in response to the virus – telemedicine, etc
Limits in terms of medical services offered
Safety requirements for patients, visitors, and staff
Reopening plans as they evolve
In the home services sector, for example oil delivery and HVAC services, we've seen companies use call hold time to explain what precautions their front-line personnel would be taking when providing their services, putting their customers' minds at ease. Just as importantly, they set expectations about what behaviors they expect from their customers regarding social distancing, wearing masks, etc.
An important point here: The future trajectory of the virus is both unknown and evolving. Keeping these messages continuously current will be required to continue building customer trust.
Medium Term: As fewer customers interact in person, more customers are calling.
No doubt you've purchased and/or consumed a product or service without walking into a physical location since all of this began. More and more economists believe that this is a trend that will not reverse itself. We have helped many of our customers to update their onhold messages to respond to the virus:
Curbside pickup (retail – both local and national chains)
Contact-less payment systems (restaurants)
Web-enabled service delivery (online fitness, telemedicine)
Changes to hours of operations and service offering restrictions
For your own business, given changes regarding how your product/services is being consumed, ask yourself the following questions:
What can I communicate that would make customers/prospects more comfortable doing my business with me in this new environment?
What resulting new product features and operating process changes have come about?
What items above will change over time? How frequently?
What role can the telephone interaction play to communicate these changes?
Regarding this last point, think about the cost of communication. A well-crafted set of onhold messages may be one of the lowest cost ways to convey this content – particularly if the need to change this information is frequent.
Long-term: Business models are changing, and that change is accelerating – requiring continuous customer communication.
For most of us, the pandemic has forced us to work in ways that are fundamentally different in the past. Many of these changes impact how we work with customers. Those who not only adapt, but effectively communicate quickly and efficiently will be the winners. One example: My wife runs an apparel company. Within a few weeks, she pivoted from a business model in which her clothing was sold in the home to a more technology-enabled on-line purchasing environment.
The fundamental question here is: How has your business model changed, and what about this change is relevant to your customers?
Once the messages have been identified and scripted, the challenge is to keep the communication flow fluid as refinements are made to the business model. To the extent that you employ multiple channels for communication, onhold messaging can reinforce these messages – as well as service as a low-cost channel in its own right.
How Marketing Messages Can Help
In addition to providing voice recordings for your onhold messaging programs, Marketing Messages has assembled a list of scripts for COVID-related onhold messaging, as well as sample scripts for auto attendant prompts. We also have script writing experts who can create custom scripts for your particular business situation. Please feel to call us at 617-527-3023 or reach out to me at [email protected].