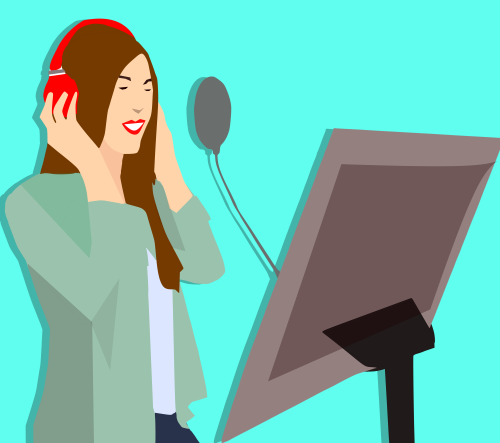 One of the most popular voices here at Marketing Messages belongs to the one and only Catherine. With her distinctively refined yet energetic delivery, a favorite among customers seeking IVR prompts or auto attendant voice messages is Catherine for both English and French.
Besides being a veteran voice talent, Catherine has worked in the audio industry in almost every capacity. Initially working in radio, Catherine got her start not doing the voicing herself, but acting as copywriter and production director, then choosing voices to fit the message.
But when the need arose, Catherine would hop in the booth herself and produce her own recordings. And this was back in the day when production was done on reel-to-reel and cart machines.
Fortunately, the audio production process is a bit easier in this digital age.
"In today's day and age, you really can't be a full-time voice talent without having the capability of recording and editing and working in a self-directed manner," Catherine explains. "Being just the voice talent on a client-directed session is a joy, and it's fun to be just the talent. Very often I provide clean-edited audio to my clients so working with companies like Marketing Messages where I can record and have them take care of all the editing is wonderful."
Now a full-time professional voice talent, Catherine's varied experiences in the commercial realm have helped her stay highly attuned to how her performance needs to be adjusted during a job to suit the customer and subject matter.
"Most of my work is corporate," she says. "And much of my work is in a tone and a style that is warm, empathetic, professional, clear, compassionate, businesslike, and approachable. Knowing the subject matter and industry of a particular client or project absolutely has an effect on how I approach and record a script. I wouldn't record a script for a Harley Davidson dealership the same way I would record a script for a hospital or financial institution. The tone is different, the audience is different, and that informs how I record and what tone I use."
That same level of care and thought goes into the use of multiple languages. Fluent in both English and French, Catherine's abilities as a bilingual voice talent often come in tremendously handy, especially with clients operating out of Canada or the northern sections of the United States.
Rather than dryly reading text, Catherine allows the languages themselves to influence the performance she is going to give.
Both English and French
"I love recording in both English and French and I'm so happy that I have the skills to do that. It is a gift that my parents gave me and that I'm grateful for every day," she says. "There is a difference in tone with each language. But again, it depends on the script. I tend to speak a little faster in French than I do in English and I'm a bit more animated in French than I am in English, but I love playing with tone and speed and emotion in both languages."
Staying Healthy
Of course, part of being a professional is not only knowing what to do, it's knowing what not to do. A professional voice talent needs to keep their voice in good working order, even if it means cutting a celebration short.
"In terms of maintaining my voice, the main thing is that I don't scream, which is hard when you're a real hockey fan like I am!" Catherine jokes. "I am careful if I'm out in the world, even before the pandemic, to stay away from people who are ill. Because if I catch a cold or I get a sore throat I can't work. So it really is a question of being aware of my surroundings."
Some things, however, are too important to give up.
"Some people avoid coffee and caffeine, but no one is going to keep me away from my morning cup of coffee!" Catherine says.
From putting the finishing touches on physical reels to today's digital advantages, Catherine has always been a first-rate talent in the audio industry.
Visit the Voices pages on the Marketing Messages website and listen to audio samples of her voice in both English and French and you will see precisely what we mean!