The Voice Marketing Brand conversation starts differently because it touches on a different sense, that of sound. We feel things based on our hearing, and this affects your branding decisions.
Many of the initial discussions we have with new customers center around the challenge of rationalizing the number of recorded voices one of their customers might encounter in the course of various phone and web interactions. Clients know they should employ a more unified voice approach, but don't have a roadmap for thinking through how to make the right choices that will ultimately impact the overall customer experience. This blog post lays out an approach that addresses this challenge.
What Is a Voice Marketing Brand?
Voice Marketing is a branding strategy that aligns all of an organization's professionally recorded messages and the unique attributes of a given voice with its value proposition. This alignment is achieved by employing a single voice or set of voices across a broad range of customer "voice touch points", including phone, web, and other communication vehicles.
For example, when a caller is:
Navigating through phone menus (auto attendant prompts)
Conducting a phone transaction (IVR prompts)
Waiting on hold (on-hold messages)
Viewing a video on a website (web video narration)
Being educated about a product or service (e-learning narration)
The chosen voice talent should deliver in a way that is emotionally compelling and consistently builds customer familiarity over time via continual reinforcement – whether the caller is talking to a call center application with touchtone voice prompts, viewing a web video, or participating in an E-learning presentation.
Principles of Voice Marketing
Voice Marketing presumes that the organization has established at least one of the following:
Brand statement A description of how the organization wants to represent its products and services to its customers – i.e., its "promise" to these customers.
Customer persona A short story that defines relevant characteristics, interests, and demographic information representative of individuals in its prospect and customer base.
Value proposition The unique set of customer benefits offered by the organization's products and services differentiate it from its competitors.
The development of professionally recorded voice prompts, messages and narration should consistently support each of these elements – and should proceed according to the following six guiding principles:
1. Voice attribute alignment
A voice talent's vocal attributes should accurately represent and support the company and/or product brand. They should appeal to specific customer personas. Any personal characteristics, behaviors, and lifestyle information should be conveyed to the voice talent so the talent can more effectively establish a connection with the customer.
2. Voice channel alignment
A customer interacts with a company brand through a series of customer touch points. Each has the potential to become a "voice touch point" – or instance in which the customer comes in contact with a recorded voice. Each customer touch point should be evaluated to determine if the use of a recorded voice would be an effective communication vehicle – and if such use would be a cost-effective alternative or complement to other modes of communication.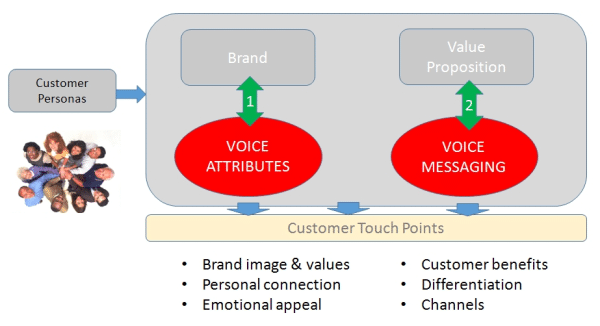 3. User experience consistency
Use of a voice talent should create a consistent user experience. The same vocal style, emotion, and inflection should be employed across all vehicles enabled by professional voice services – and these same elements should remain consistent over time.
4. Messaging consistency and reinforcement
The messages communicated via voice-enabled vehicles should mirror and reinforce those conveyed through the organization's overall marketing mix. This alignment should extend across as many marketing vehicles as appropriate – so that messaging is reinforced and made more memorable. Voice-enabled marketing vehicles should also reinforce messaging at the individual marketing program or initiative level – supporting new product/service introductions, special promotions, and feature enhancements.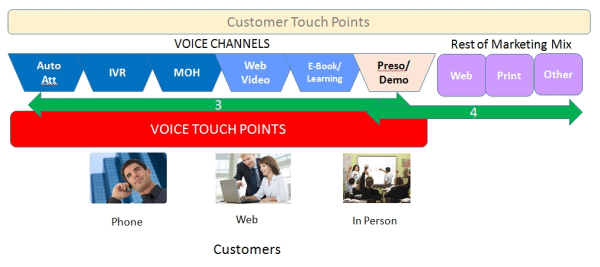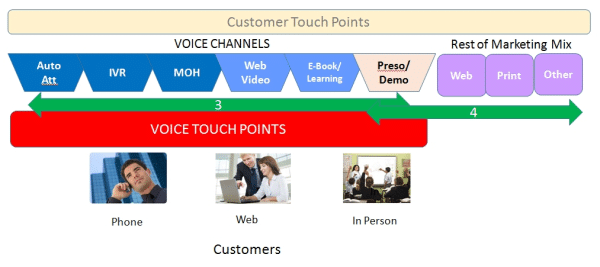 5. Voice talent uniformity
The preceding principles suggest that a single voice talent should be deployed across all voice touch points. The talent should be professionally trained to deliver IVR prompts, onhold messages, and narration uniformly with respect to style, tone, emotion, and inflection. Multiple voice talents can be effectively utilized as long as each can be associated with a well-defined set of customers, products and/or brands – or thoughtful consideration is given to how the voice talents relate to each other.
6. Emotional engagement
The voice talent should elicit emotional responses that are conducive to establishing and maintaining a strong relationship with target customers – resulting in positive outcomes for the business. Vocal attributes should nurture a sense of familiarity that is constantly reinforced across multiple vehicles – strengthening the bond between the customer and the brand.
Benefits
Following these guiding principles will yield significant value in terms of brand equity:
Consistent brand reinforcement
More powerful value proposition
Strengthened customer connection
One of our banking customers sums up these benefits as she describes how voice has become a unifying force in their overall marketing approach:
"Before we standardized all of our voice recordings using a single voice, the customer experience was disjointed and confusing. Callers heard a credible but very formal voice on our main auto attendant, a friendly, authentic voice for our commercial loan processing IVR prompts, and a highly energetic voice on our customer service line. Looking back, it was hard for the caller to understand what our brand stood for. Worst of all, we just looked – and sounded – less than professional. Now all of our recorded voice prompts reflect a friendly, welcoming tone, which is consistent with the image we're trying to portray as a community-oriented regional bank."
Stay tuned for our next blog post on the Voice Marketing Process, which describes a step-by-step approach for ensuring that your recording voices are aligned with your brand. We"ll provide real-life customer examples for illustrating these principles in future posts.