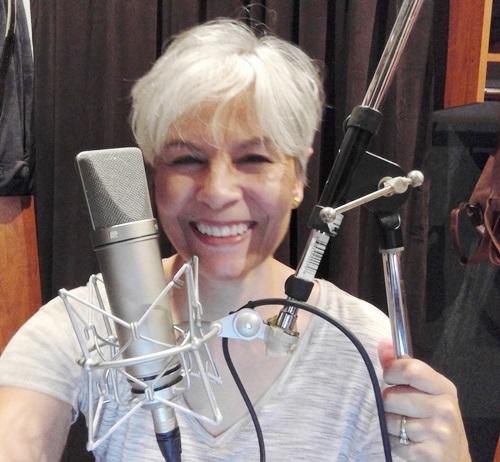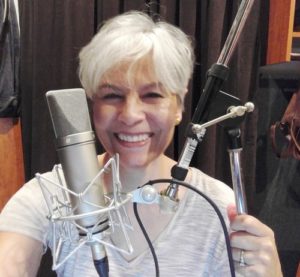 Roxanne has done enough professional recording for enough different industries to know that every company and organization has their own sound.
"A lot of work I do is for repeat clients," she explained. "I definitely have a slightly different approach for each one. I just try to think about who's calling this number, and what are they going to hear?"
As the official voice for a children's hospital, where the people dialing in are already dealing with who knows what stresses and concerns, Roxanne's voice is soothing and reassuring in both English and Spanish. For all her clients, be they in banking, retail, education, or any other industry, Roxanne's goal is always to find the energy and personality that fits that company, no matter what she is recording.
Roxanne's versatility is attributable to her background as an actress, a career she was pursuing when voice acting presented itself to her.
"I came at it a little sideways!" she recalls, laughing as she does so.
Born in Chile and raised in Boston, it was in 1994 while looking for screen work in industry magazines that Roxanne discovered calls asking for voice actors. After her first voice work job for the Albertsons supermarket chain, Roxanne began to steadily acquire not only loyal customers, but a community of fellow voice artists that continues to thrive and expand, even as the industry around them has changed.
And it has changed a great deal! Roxanne still marvels at just how rapidly the explosion of home computing and accessibility of recording devices changed the landscape for voice artists. Amazed at her colleagues' stories about setting up their own home studios which allowed them to record all day, Roxanne's first foray into creating her own space first involved picking up a $5 microphone from RadioShack and getting hands on experience with the new home recording technology.
"It was like trying to sculpt Michelangelo's David with just a hammer," she admits, still laughing.
But even as the industry has grown and shifted with new technological leaps and customer needs, the voice artist community continues to nurture and support one another. Roxanne is frequently amazed by the output of her colleagues.
Not that her own efforts are any less remarkable. Roxanne comfortably speaks English, Latin American Spanish, and Brazilian Portuguese, with clear and concise intonation devoid of accent. She easily toggles between English and Spanish when required, a skill set that has only grown more useful as the Spanish-speaking market has boomed over the past few years.
"Being able to speak Spanish as a native speaker is why I have a career," she explains. "Even 15 years ago, there was almost no one else besides me in the field who could do it [professionally]."
Between auto-attendant, IVR, messages-on-hold, narration, multi-media presentations, etc., there are really no limits to the kind of recordings that need to be accomplished in the modern market. Roxanne has seen those changes and expansions happen first-hand. But even now, her sunny voice continues to shine in supermarkets, call-centers, hospitals, and just about any other kind of industry you can imagine.
From her home in Texas, Roxanne turns out exceptional audio at an astonishing clip, happily plugging away at a career that, while she couldn't have predicted it, has become everything she could have asked for as a performer.
"I am using my God-given talents, I'm supporting my family in a meaningful way, and I just love my community and my incredible clients," she says. "I just feel so lucky!"
Wondering if Roxanne's voice might be a good fit for your brand? Why not take a listen to her and other Marketing Messages voice talents!