Here is a phrase no one wants to ever hear again: "Please continue to hold.  We will be with you shortly."
While being placed on hold is inevitable, your customers have higher expectations than on hold messaging with poor quality music and a looping message with the ambiguous promise that eventually "someone" will eventually pick up the line.
A service-minded company understands their customers' tolerance for waiting, and will manage their on hold messaging to that end.  In fact, they realize that there is true benefit to utilizing messages on hold.  Knowing that there is a captive audience of customers or potential customers on the other end provides the opportunity to offer important and relevant information during their hold time. Quality messaging keeps the customer engaged, reducing abandoned calls and hang ups. Seasonal specials, key updates to your services, and new product offerings can be relayed during messaging on hold. Focusing on your customers' needs will make their experience more pleasant and engaging.
Enter VoiceCentral, a new method for creating, managing and updating on hold messaging. This cloud-based technology eliminates much of the manually intensive processes required by traditional Messages On Hold (MOH), enabling updates to your messages to be executed quickly and efficiently. Let's examine the advantages of VoiceCentral versus traditional MOH, using the urgency of Black Friday deals as our case scenario.
What exactly IS VoiceCentral?
The VoiceCentral system channels the latest in cloud-based technology to produce, update and manage Messages On Hold. It allows for an immediate response to developments in the marketplace. With VoiceCentral, your files are maintained on a central server. Those files can then be shared with all of your remote locations, instantaneously updating your messaging systems.
How does VoiceCentral differ from Traditional On Hold Messaging?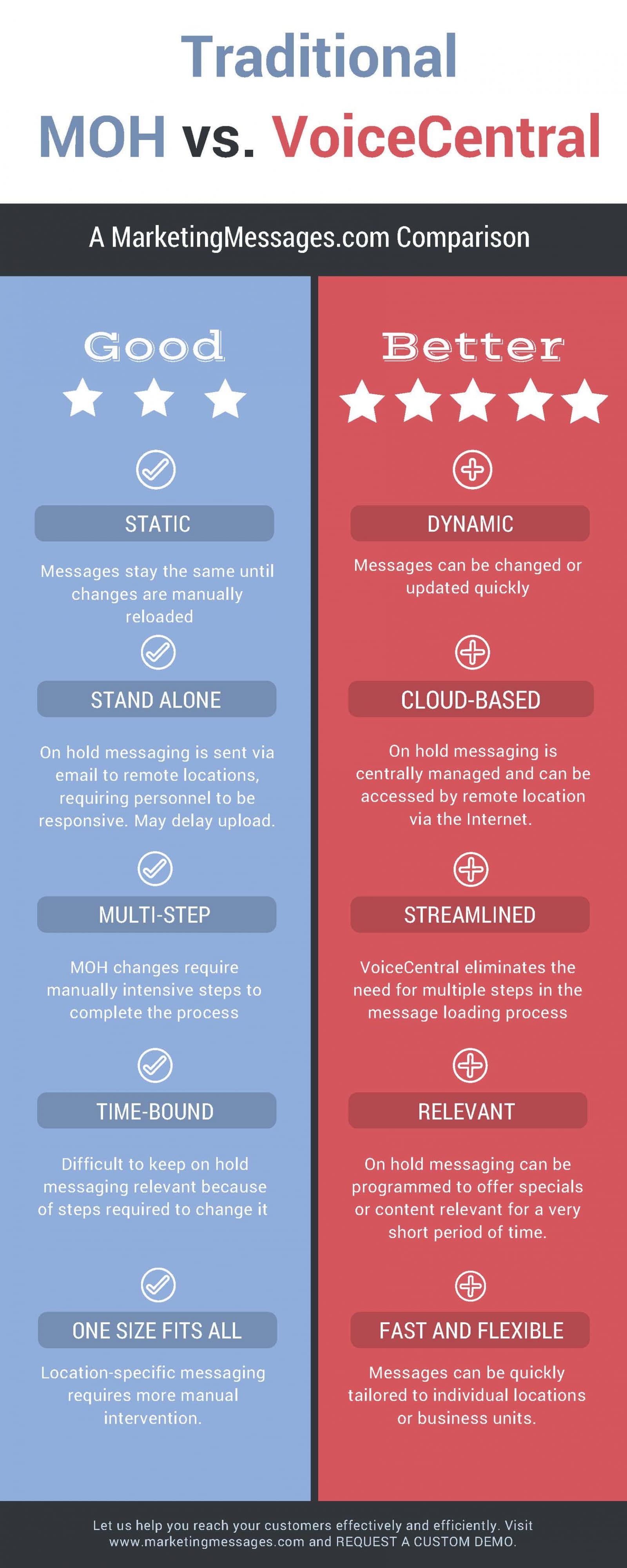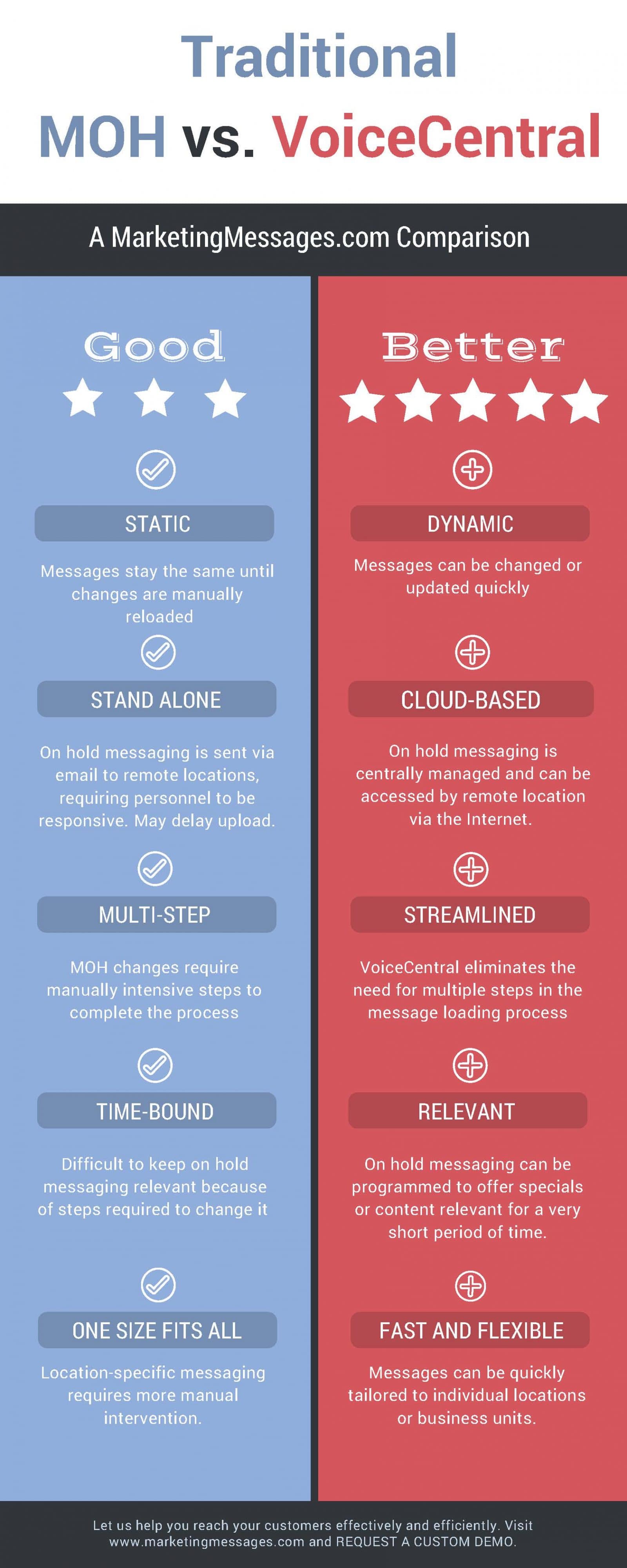 Let's use the scenario just mentioned. You have just received word from one of your vendors that they are offering a killer, below wholesale deal on 60-inch flat screen TVs, just in time for Black Friday. Your current on-hold messaging is still looping specials from two weeks ago. Time is of the essence here.  You have two days before the crush of Black Friday begins, so you scramble to get the print ads, radio spots and signage in place at your six locations: Orlando, Raleigh, Baltimore, New Haven, Brooklyn and Boston. Now for the on-hold messaging. Using traditional MOH, the process of creating and updating new spots is both time and labor intensive. To update your system, you have to:
Find the e-mail from your MOH provider

Send the script to the provider to record and remix the message into your existing set of MOH messages

Download the MOH onto a thumb drive  

Go to the closet where the MOH player is and load the file

Forward the file to your six locations and ask them to load the file on their digital players

Follow up with all the locations to make sure they loaded the MOH file

Remember to remove the MOH Black Friday promotion three days later  
VoiceCentral offers a different experience. No excessive emails, follow up phone calls, using thumb drives to transfer information from one piece of hardware to another. No having to remember to replace or delete new messages that are time sensitive. Here's how this streamlined process is performed:
Send the script to be recorded

Tell Marketing Messages when the on hold messaging should start and stop, based on the promotion's length

Marketing Messages inserts the message into a message "slot" without having to remix

VoiceCentral automatically distributes the files to all six locations, and the messages play immediately

When the promotion is over, VoiceCentral automatically deactivates the message
Additionally, VoiceCentral technology enables you to easily update location-specific messaging. For example, your Brooklyn store will open two hours earlier than its sister stores on Black Friday. This information can easily be relayed through VoiceCentral's location customization.
Why VoiceCentral is An Asset To Your Marketing Plan
The marketplace is constantly morphing, and keeping your marketing content fresh is essential in continually engaging your customers. On-hold messaging using VoiceCentral fits directly into that plan. If a competitor announces a new product sale or discount, you can respond by inserting a new on-hold message, offering a price match or discount of your own. This change is effective immediately with VoiceCentral. No re-mixing, no manual intervention for re-distributing. Once your latest promotion is recorded, the audio is automatically transmitted via the Internet to as many locations as you desire.
Another feature of the VoiceCentral system is the capability of specific date scheduling. You can pre-schedule your on-hold messaging to begin and end on future dates, as well as program the system to play messages only on certain days of the week. If you want to rotate messages, you can have certain paragraphs play at the beginning of the week, and others at the end.
Keep in mind – while the VoiceCentral system functionality is more immediate and flexible than traditional Messages-On-Hold, both systems offer superior on-hold messaging, enabling you to optimize your marketing plan to engage life-long customers.  We can show you how.  To request a custom demo, please visit us here.