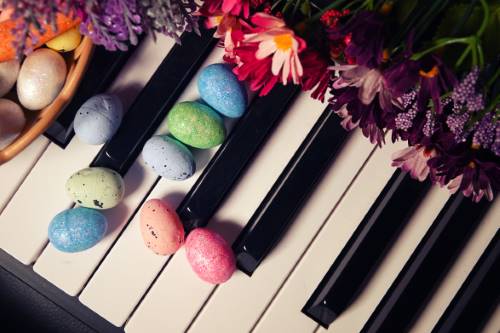 I've been working at Marketing Messages since 1998 and I can't think of a single time we've been asked to produce a Messages-On-Hold production for the Easter holiday with holiday-themed music. Easter and on-hold music just don't blend.
A custom closed-for-the-holiday auto-attendant greeting for Easter, freshly recorded each year? Yes, for sure. Countless times.
Dozens of IVR prompts detailing business closures for the Easter holiday, in any of over 80 languages? Yup, I've recorded, edited, and formatted thousands of Easter prompts over the years.
Every business should make their operating hours readily accessible, especially around major holidays. I've been helping our customers do just that by providing the exact messaging they require, in the voice of their choice (you know, that one voice that just speaks their brand), formatted specifically for their application, well ahead of the event it announces.
Christmas is the most requested time of the year for a change from your usual on-hold music to something that celebrates the season. But there are other holidays to consider as well. We have a lot of patriotic music that's just right for your June production in advance of the 4th of July holiday. I've often hoped a client would ask us to produce a fresh on-hold mix for Halloween, that they'd start on October 1st and run through the stroke of midnight on Halloween, but that hasn't happened yet. Maybe this year? If you're interested, I'm ready to mix it.
Now let's get down to brass tacks. I've made hundreds of Messages-On-Hold productions that contain messages about the upcoming Easter holiday. Usually, these are recorded and produced in January or Early February so they can be played for about 5-6 six weeks in advance of the holiday. I've just never been asked to use Easter-themed music. I wouldn't even know what music would make sense for a holiday like Easter that's celebrated in so many wonderful and diverse ways all over the globe.
I do have some ideas about what I'd use for a Halloween on-hold production though if anyone's interested.
Happy Easter weekend everyone!
On-hold Dan