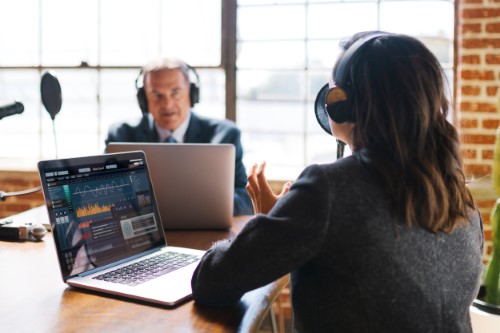 In the early days of podcasting, most shows were purely about news and entertainment. But over the past few years, businesses have realized that you can achieve real business results through the power of podcasts. In response to this trend, Marketing Messages recently announced a new podcasting services division: ModPod. Marketing Messages already has expertise in professional voice recordings and now we'd like to teach you how to create a podcast. Not sure if a podcast is right for you? In the latest episode of Voices Carry, Jim and Janet will help you learn the business value of a podcast, and it might just spark a few ideas for your own company.
Learn Business Value of a Podcast
Podcasts are a direct-delivery system of information to potential clients, partners, and even to people who may not even be thinking about you or your industry but might come across your show. Because of this, podcasting creates significant business value by establishing credibility, building a brand, and generating revenue. What better way to showcase your extensive knowledge, your office culture, your specific brand and ideologies than through a format that can be shared anywhere, costs nothing to listen to, and can be listened to on virtually any smart device, be it a phone, a computer, a tablet, the list goes on and on!
Authentic, informal conversation will always register more strongly in the minds of consumers than bland, anonymous text on white screens. You may not believe you can expect a strong response to a podcast for business, but you would be surprised how much new engagement can be generated.
This applies to the most niche of industries. In researching podcasts, we discovered companies that developed podcasts about everything from fitness to the dairy industry. Through consistent, engaging content, these podcasts drew thousands of listeners and leveraged many of those listeners into active customers.
A Constantly Growing Industry
Maybe the most vital answer as to why a company should consider starting a podcast is that soon, you won't be able to afford not to have one. Podcast listening continues to expand at an exponential rate, a trend that the recent pandemic only exacerbated.
In a study conducted in 2021, it was determined that people across the globe listened to 15 billion hours' worth of podcasts that year alone. That's three billion more than only two years prior. It is estimated that within the United States alone, by 2024 there will be 100 million podcast listeners. And most podcast listeners start listening to a show in the hope of learning new things.
Just within the financial world, we are seeing an outpouring of creativity. Banks and credit unions use their dedicated podcasts to imprint themselves within their community, to educate their listeners on the ins and outs of finance, to introduce employees and executive staff and create a sense of place and familiarity within the company, and to keep listeners updated on the latest trends and news from the financial sector.
There are so many ways to use a podcast to connect with your audience, and podcasts are increasingly the avenue customers want to utilize to make that connection.
Getting Started
Do you still have a lot of questions as to how to start a podcast? Does podcast production seem like way too complicated or time-consuming a process to even begin?
That's exactly what ModPod is designed to help with. Call or email us today and we can start the conversation and help you learn the business value of a podcast. And in the meantime, check out the latest episode of the Voices Carry podcast, in which Jim and Janet discuss all the ins and outs of ModPod and the exciting world of podcast opportunities.