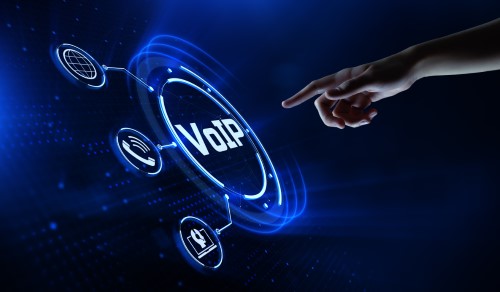 It was my absolute pleasure to travel to Dallas recently to attend the Experience Marketing Association (EMA) 2022 Conference, our first in-person get-together in three years. Our group may have begun life as the On-hold Marketing Association (OHMA) – but over the years we have expanded EMA's focus as more of our businesses diversified into a broad array of new customer experience technologies such as digital signage, background music, wireless marketing, and business scenting. But at our core, we continue to work together to develop the latest in MOH and VoIP solutions to support our customers.
OnHold Messages Solutions…Before and After VoIP Phone Systems
Over the course of the two days of the conference, we discussed many new developments in our industry, none more than the continuing ascent of Voice Over IP (VoIP) as the general telephony platform of choice for an increasing number of organizations. This development may have caused a major disruption to onhold messages, but it has also led to new user opportunities and, by association, increased business value.
One drawback for implementing messages on hold (MOH) in a VoIP environment is the limited options for sequencing the messages that a given caller hears. In a traditional on-premise environment, an MOH file is "looped"; in other words, the messages rotate on "digital announcers", an external device that is connected to the phone's central processor. Callers are placed randomly into this loop when they call in, such that they hear different messages each time. This results in a broader set of messages callers hear, and as such, the organization receives more value for their investment.
Contrast this with a file played within the internal memory of a VoIP system. In general, the caller will hear the messages in order, starting with the first message. So, if a customer calls in four times and stays on hold for 30 seconds, they will only hear the first message…four times. The same small bit of message. Over and over. Every single time they call in. Does that sound appealing? Would you be excited about calling in if you knew you had to listen to the same recording every single time? Not even the best voiceover talent or most appealing music in the world can make up for that sort of stasis.
What's worse, if a caller is transferred and put on hold again multiple times, they'll hear the same messages again and again…on the same call! From a marketing standpoint, there is obviously so little value in how the call experience is being utilized. Not to mention that the caller experience itself is significantly compromised. Worse than that, in this environment, the MOH is "boring, repetitive, and does not change", as noted by the keynote speaker on this topic at the conference.
Better MOH and VoIP Solutions for Phone Systems
Fortunately, we spent a lot of time in Dallas learning about new technologies now available that 1) enable a more flexible sequencing of messaging in the new VoIP environment, and 2) include additional features that make the caller experience immeasurably more compelling. These solutions do not require external players, rather they interface with many commonly used telephony platforms, including, but not limited to those supplied by Broad Works, Cisco, Genesys, and Microsoft (Teams). Features include:
Message looping: Callers are dropped in at random points of the loop, broadening message exposure.
Caller-selectable music options: Also known as "Jukebox", this enables the caller to select the genre of music to be played, for example, pop, classic rock, electronic dance music, jazz, etc.
Forward scheduling: Organizations can schedule messages associated with special promotions and other information that is helpful to customers in advance, and on a paragraph-by-paragraph basis.
News, sports, weather…and even podcasts!: Current information for all four domains are automatically loaded and mixed into MOH productions nightly.
Texting/SMS: Callers on hold can request marketing brochures and other product/service information by touch-toning out of the hold queue.
Callback: Messages can be inserted to enable callers to request a callback if they do not wish to stay on hold.
In addition, helpful data analytics are available as dashboards to inform marketers and call center managers about hold times and other key metrics.
All of us at EMA were super-impressed by these emerging capabilities in MOH and VoIP solutions. If you are investigating professional voice recordings for your own company or organization and would like some more information on these new innovations, I'd be happy to share how they can be deployed to improve an organization's marketing and communication effectiveness. Feel free to reach out to us via our Contact Us Form, or visit or Onhold Messaging web page or our home page at www.marketingmessages.com.