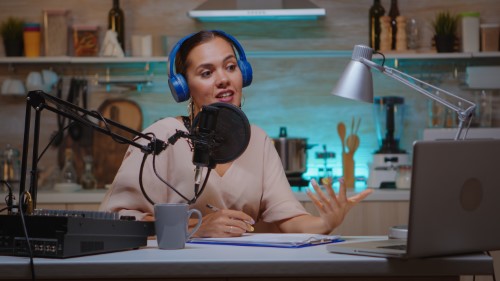 At Marketing Messages, we pride ourselves on our expertise with just about every form of audio production that a customer may desire. Throughout our history, we have been on hand to help with any kind of voice recording – from auto attendant and IVR prompts to onhold messages to large-scale voice narration for advertisements, professional presentations, e-learning… you name it. It is with great pleasure and excitement that we tackle a new frontier of audio with our venture, ModPod, a full-spectrum podcast production company that will operate as a division of Marketing Messages.
Why Podcasts?
Podcasts have been around for some time now, and they have become an integral part of people's daily lives, whether as entertainment during a commute or as an important educational resource about specific subjects, fields, current events, or companies and products.
In this ever-expanding market, a business having its own dedicated branded podcast is an invaluable way to not only strengthen an organization's brand identity, but to generate engagement and word-of-mouth across social media and other Internet avenues.
Podcasts not only serve as a means to attract new customers, they strengthen and enrich a company's relationship with their existing customer base. Studies have found that people retain much more memory from audio learning than they do from just text, which makes podcasts an ideal format to not only reach out to customers, but to inform and engage them.
It's such an exciting space, and such an exciting time to get involved. But what does involvement look like for a podcast production company?
A Full-Spectrum Podcasting Production Company
ModPod's mission is to create compelling, content-rich podcasts that elevate and showcase our clients' expertise using an approach called Knowledge-Based Podcasting. We work with our customers to help them develop the best show that suits their needs and vision, and then apply the audio and creative expertise we've accumulated throughout our 35-year history to make every episode of that show the best that it can possibly be.
To that end, Modpod offers a wide range of podcasting services. We can help you Get Clear on your podcast's strategy and concept, helping to hone in on what sort of podcast makes sense for your company and client base.
Once the concept is determined, the next stage is to Get Ready for the demands of recording and distributing your podcast. You'll need a studio space conducive to clean audio, a line-up of well-prepared episodes, and scheduled guests to get an audience excited.
And then it's time to Get Going. We'll assign a Project Manager who will work with you on editing, sound integration, artwork, title and show notes, audiograms, distribution, and more.
ModPod can also enable organizations to expand the audience for podcasts to include listeners speaking any language around the globe. Our Get Global services assist in localizing podcasts into Spanish, French, or any number of the 80+ other languages Marketing Messages support.
Talk to ModPod Today
So if you are interested in exploring the world of podcasts, we're happy to provide a free consultation, no matter where you are in your podcasting journey. We can't wait to hear your ideas and help bring them to life, with the same dedication and expertise that we bring to all our Marketing Messages audio productions.
Podcasts may have been around for a while now, but it's still a young field with boundless room to explore, expand, and experiment. It's a frontier that we are excited to move into, and we hope that you'll join us on the adventure.
If you have ideas, interests, or just general interest, contact us today!