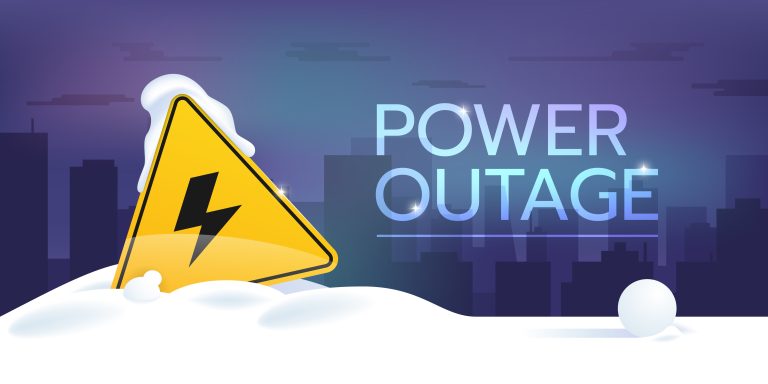 For our sister company,
ModPod
, I recently posted about a remote audio recording setup I have and use. At the time, I'd never used my portable rig to make a professional voice recording for Marketing Messages because I always used a vocal booth, complete with DAW, lighting, microphone, monitor, USB audio interface, and wireless keyboard and mouse. Why use a tiny notebook PC to record when I have that solid PC AudioLabs desktop to do the work?
Did I mention the snowstorms? No, not yet. So there were snowstorms that dumped tons of the white stuff on our trees. So much so, and over so many days, that the branches started breaking. So many branches broke and fell that the powerlines were adversely affected. At 10:30 AM last Tuesday, the power went out. Well, back out actually, as it originally went out on Monday at 4:50 PM and stayed out until 8:30 AM on Tuesday. After such a long outage, once it returned I didn't expect another issue. So when things blipped off at 10:30 AM, one of those things was the PC for the vocal booth.
But I had an on-hold message to record for one of our regular customers. I've been voicing Messages-On-Hold for them every month like clockwork for over 8 years, so I was determined to deliver when it was due that day. With no way to know when we'd have working electricity, I problem-solved and realized that my portable audio recording setup contained the solution. I used my 2-in-1 notebook PC as a fine, battery-powered substitute for most of the booth gear. I simply moved the USB connection from the desktop to the laptop and I was off to the races.
The session was flawless. My speech matched that of all my other recordings because it was recorded in the same space, on the same mic, and through the same digital audio converter. If anything, the noise floor of my powerless session was likely a little lower than normal since there wasn't an appliance running anywhere for miles around! But you'd never know my speech was recorded during a power outage unless I told you it was possible. And now we all know how to make a professional voice recording during a power outage.
We have a great group of Voice Artists in addition to myself. Please listen to them all and think about which ones you'd like to use to represent your brand.