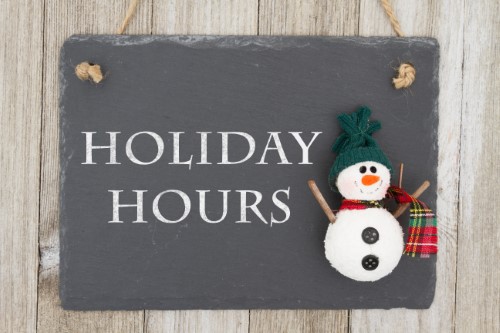 It's the holiday season, and you know what that means: Shorter days, colder nights, lights everywhere you look, Christmas music in every store, Santas watching you everywhere you go while tinsel lines every wall. Your professional voice recordings can be a part of that holiday season, whether you want to add a festive flare to your onhold messages or utilize your voice prompts to more pragmatic ends. However you approach it, the holiday season is a great time to reevaluate your audio and make smart changes.
Reevaluate Your Audio – Practical Considerations
One simple reason why it might be worth revisiting your customer-facing audio during the holiday season is really quite obvious: Your company or store's hours of operation might be different, especially during the weeks of Christmas and New Year's. There may be days where the office is opening or closing later or earlier than usual, or operating with small staff with limited availability, not to mention those days when the office is fully shut down in observance of the holiday.
Having this updated information readily available whenever someone calls and gets an onhold message or an auto attendant greeting helps customers and partners plan their communication in advance, and it's also one less thing to worry about during your own holiday season. You don't have to concern yourself with customers sitting on hold all day or all evening.
Also, if you live in an area that gets a lot of winter weather, the holiday season marks the start of a period where snow and storms and bitter cold may start to impact hours and availability. It is a good idea to have audio at the ready that you can deploy to let anyone who calls know that the office is closing early or working short-staffed.
Season's Greetings
Beyond these practical concerns, giving your customer-facing recordings a seasonal touch-up is a great way to connect with customers. Update the music to something Christmas-themed, throw some "Ho Ho Ho"s into your script. This is a time of year when we are all encouraged to spread good cheer and embrace feelings of warmth and community, and even something as simple as an onhold message can be a part of that.
And if you have year-end deals and offers, these holiday messages are a great way to promote them to your existing client base. Why expend effort on email or online campaigns when you can just update your messages so that anyone who calls in for any reason can hear what you're offering to close out 2022.
Act Now!
The holiday season doesn't last long, and before you know it 2023 will be in full swing.
If you want to reevaluate your audio and give things a festive spin, or an end-of-year update, now is the time to act.
Give us a ring or shoot us an email, and Marketing Messages will be happy to do our part in making sure 2022 ends on a good note.