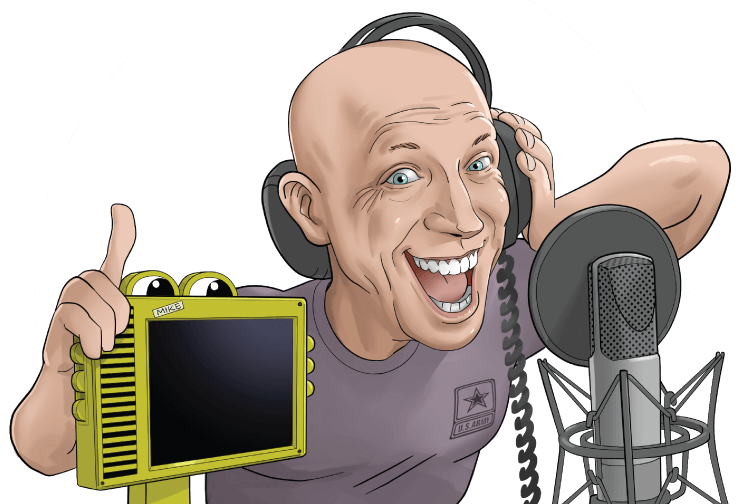 Andy traveled a long and circuitous path to arrive as the latest guest on the Voices Carry podcast. In this new episode he sits down with host Jim Giebutowski and discusses the ins and outs of how a former middle school math teacher and Army reservist ended up a professional voice talent with a special emphasis on longform voice narration.
But first, Andy and Jim need to address the somewhat unpronounceable town in Louisiana where Andy resides. Between Andy's residence in "Notchitoches" and Jim's expertise on some of the baffling names scattered all throughout Massachusetts, it's a wonder the conversation is able to proceed to any other topics.
When they do, Andy illustrates the odd journey that led him to his current career. As a schoolteacher overwhelmed with side-hustles, he initially began doing voices just to amuse his wife. When she pointed out that his parodies of announcer-type voices were good enough to serve as the real announcer, Andy began to explore the field. Soon, being a voice talent went from one more side-hustle and became a full-time, independent business.
Longform Voice Narration
Andy's specialty is longform voice narration. What does that entail? It could be anything from voice-over recordings to accompany a TV commercial, a company needing 3-4 minutes of narration for a video on their website, to an over 40-minute video sales letter accompanying a professional marketing pitch.
And then there is all the voice narration needed for everything from audiobooks to e-learning. One of Andy's steadiest employers is a law school building a massive database of audio companions detailing the ins and outs of every minute legal system. Andy estimates that he has now done thousands of videos just for this one client and this project.
What Goes Into Good Narration?
As Andy describes it to Jim, voice narration is an incredibly involved and demanding process. He's had numerous conversations with businesses that opted to record their own narration rather than utilizing a professional, to uniformly disastrous results. Voice narration requires not only the time and patience devoted to getting every part of a long script correct, but also physical stamina and at least some acting ability.