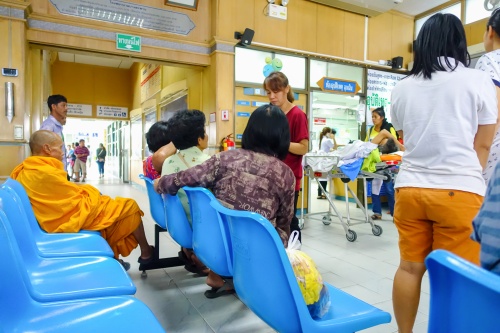 Healthcare is constantly changing, especially in a post-COVID landscape. And just as the medical field is constantly undergoing changes and new evolutions, at Marketing Messages we have observed that the ways in which on hold messages are employed have also changed. It is no longer enough to keep static music playing while a disembodied voice recites hours of operation.
Delivering healthcare services has become more competitive and demanding, with a strengthened focus on putting the overall patient experience at the center of the healthcare provider's marketing and communication strategy. Here are some of the ways that professional voice recordings have evolved in support of these important shifts in healthcare priorities.
Transitioning Healthcare On Hold Messaging from Selling Services to Imparting Patient Care Information
Since the COVID pandemic, there has been a growing need for expanding the communication vehicles through which information is communicated to patients that help them to proactively protect and improve their health, especially patients who are older, are afflicted with chronic conditions, and/or live in marginalized communities.
During the height of the pandemic, we saw a huge number of our customers in the healthcare field, from large tertiary hospitals to medical practices ranging from dental clinics to medical specialty centers, come to us asking for new healthcare on hold messages that would help convey vital information in a succinct and comprehensible form.
With more people than ever needing medical information, and the very act of going outside and interacting with others posing a danger, the phone systems became a vital outlet for communicating such information to as many patients as possible.
Guidance and protocols for protecting against COVID were the central priority, but providers also accelerated a trend that pre-dated the pandemic by a few years: focusing less on selling medical services and more on helping the patient through critical and sometimes lifesaving information. Some examples of this practical advice include:
Recognizing stroke symptoms and getting immediate help
Preventing falls in the home
Protecting adults from both tick and mosquito-borne illnesses (for ex. Lyme's disease)
Adequately preparing for medical appointments
Getting vaccinated for COVID, flu, shingles, etc.
Preventing tooth decay and loss
Lowering blood pressure
Providing this kind of information serves a dual purpose: 1) keeping patients healthy, and 2) reinforcing the provider's brand as empathic, caring, and patient-focused.
Keeping healthcare on hold messages current is critical to keeping patients informed.
To be effective in making your healthcare on hold messaging more effective, it is important to continually update the information to reflect new healthcare developments and knowledge and mirror evolving messaging projected by the provider's other marketing and communications channels. Many challenges patients encounter are seasonal, so most of our healthcare clients update at least quarterly. Marketing programs and communications are often initiated or updated quarterly as well.
Using on hold messages to address the needs of diverse and underserved stakeholders.
As the American population becomes more diverse, and Diversity, Equity, and Inclusion (DEI) programs increasingly take hold, there has been a growing push within the healthcare community to focus on historically marginalized and underserved populations. Many neighborhoods across the country are home to ESL (English as a Second Language) patients, so more and more healthcare organizations are recording their on hold messages in a variety of languages and dialects, or at least including non-English paragraphs within their English Messages-On-Hold programs.
Doing so is a good idea for at least one practical reason. If you are servicing a community of predominantly Spanish, Portuguese, Mandarin, or Haitian Creole speakers, among others, then you need to offer assistance that has the best chance of being understood by your callers. It is entirely likely that your organization will have to be of help to a patient or patient's family who does not speak English.
We have also seen firsthand how much more supported patients and their families feel when the voice on the other end of the phone sounds like them. Callers feel much more comforted if they hear a voice that is personalized and empathetic, even if the message is recorded vs. live.
Also, diverse voice talents and professional translators can lend perspective that English-only speakers do not have. They know how to vocalize concepts in a way that would resonate more with native speakers in underserved communities, ensuring that your messaging is heard, and heard 100% accurately.
In addition to offering over 80 languages, we offer English-speaking voices that would be recognized as People of Color. Click here to hear sample demos of our Black and Hispanic voices
Use One Consistent Voice Across Your On Hold Messaging and Auto Attendant/Call Center Systems
In creating a branded, personalized voice that people will associate with your organization, it is a good idea to make sure that the same professional voice artist who handles your on hold messages also voices any auto-attendant prompts or phone-tree recordings that you need. That way, your patients and other stakeholders will be treated to a unified, consistent caller experience that is both pleasant for the customer and brand-building for your organization. If you'd like to hear sample voices across both applications in a healthcare environment, visit our Healthcare Voice Services webpage.
Find Out More
Get in touch with us today and we'll be happy to discuss the important shift in healthcare messaging that the industry is undergoing. We enjoy answering any questions you might have and developing the best possible on hold messages for your audience.
We're here to help whenever you need with whatever you need.
Marketing Messages has also expanded into the podcasting field with our podcast division, ModPod. Podcasts are a great tool for spreading the word about your services, your industry, and your organization. If podcasting is something you have any interest in, feel free to schedule a consult with us today.