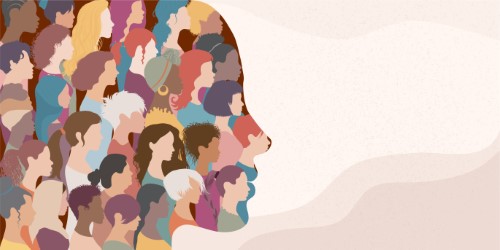 Diversity, Equity, and Inclusion (DEI) continue to grow more and more important in the modern business landscape. Companies are being forced to reckon with the inequalities of the past and make bold choices for the future if they wish to keep up with our fast-paced, increasingly diverse and connected world. The voiceover industry is asking itself those same tough questions and making those same bold decisions. Voice diversity in the voiceover industry is of the utmost importance, and we at Marketing Messages have been working to be proactive in in that area.
Voices Carry
As part of that ongoing, evolving conversation, Jim and Janet welcomed Denise, a voice talent with Marketing Messages, onto the Voices Carry podcast to discuss her experiences as an African-American voice talent in a field that has often been dominated by white voices.
"Denise explained her circuitous path to her current career, and how she has already seen the voiceover industry start to evolve to try and shepherd voice diversity, which beyond being the correct moral action also creates opportunities to speak to a broader audience."
What Is Gained from New Voices
As Denise discusses in greater depth in the episode, the benefits that come from expanding voiceover talent diversity are frankly incalculable. Whether a customer is trying to navigate through a menu of auto attendant prompts or listening to onhold messages while waiting for service, having voices that reflect the communities and cultures in which businesses are situated makes every part of this experience better, for all parties concerned.
This is especially appreciable when it comes to call center voices, where we have seen in the last few years a major push towards making these recordings as personable as possible. People do not want cold, monotone voices reciting messages in a single robotic pace. No, instead there is a drive, backed by ever-improving technology , for call center recordings to simulate actual conversations, with all the energy and personality that that entails.
Making the conscious effort to be more inclusive and create the opportunities for greater voice diversity is a major factor in building those relationships between a company and its customers.
Creating a Space
While Denise is honest about the frustrations and pitfalls of the voiceover industry, she remains extremely optimistic about both the immediate and long-term future. The effort for greater DEI will only lead to more voice diversity in the voiceover industry as companies work to keep up with the expanding, diversifying global customer base.
Here at Marketing Messages, we have made this part of our mission as well. Over the last few months, we have made a major push to recruit more voice talents of color and lobbied, successfully, for their consideration to our new and regular clientele. We have demos of some of our diverse voice talents, available here.
These progressive steps can be done, but they require making an active choice to make the effort, and then the will to act on that choice.
Listen Up
For more thoughts on this topic, please join Jim and Janet on the latest episode of Voices Carry as they talk all this, and much more, with special guest Denise. And be sure to listen to all our previous episodes of Voices Carry, and stay tuned for future episodes.